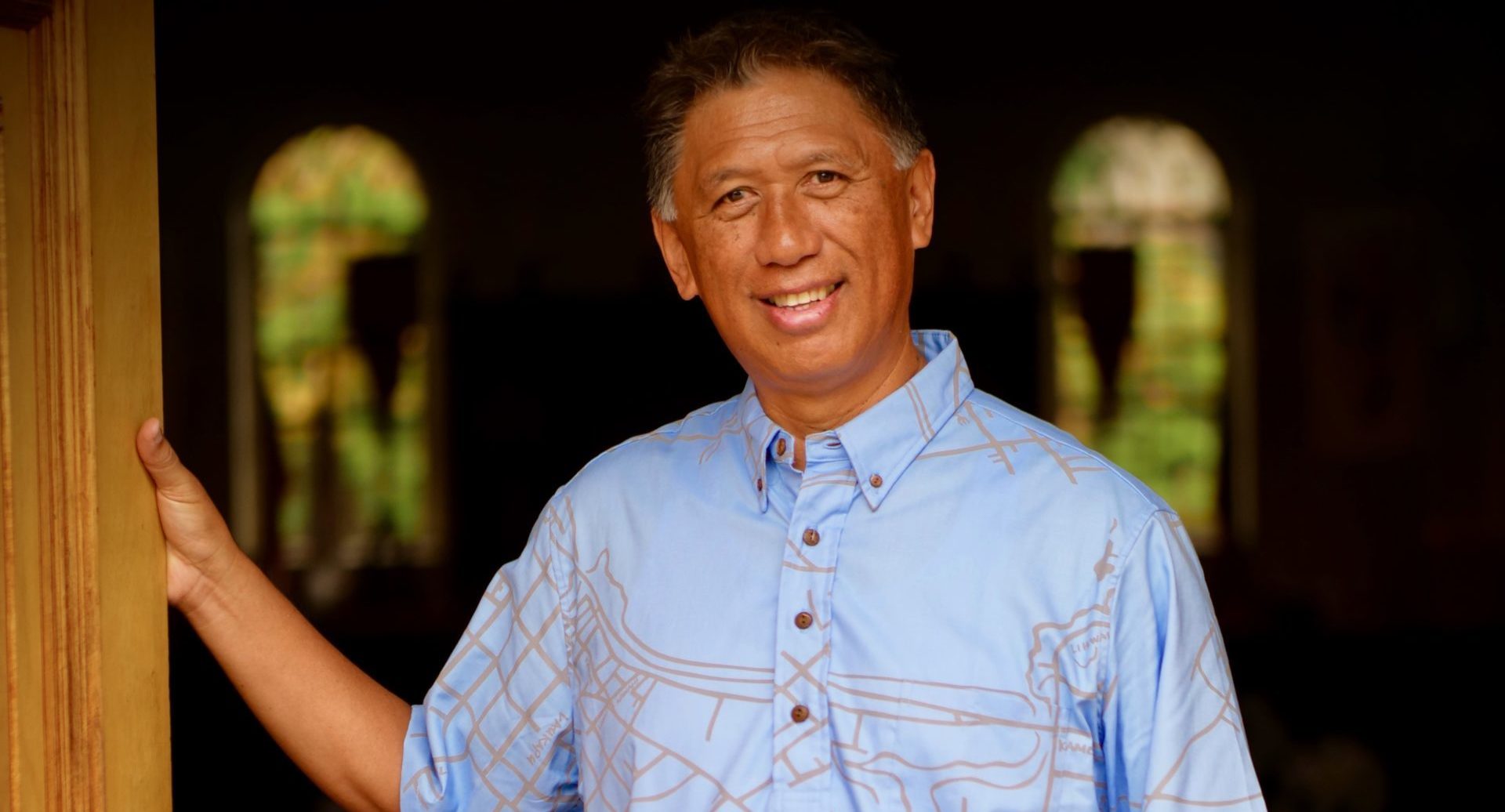 Rev. Kenneth Makuakāne
Rev. Kenneth Makuakāne was born and raised in Hilo, Hawaiʻi. Kahu Makuakāne comes from a long line of Kahu (pastors). His great-great-great grandfather was Rev. Daniel Makuakāne who served as the pastor of ʻOpihikao Congregational Church from 1865 to 1873 and at Kalapana in 1877. He was described as the "kanaka kahu hipa o ke kuahiwi" or "the Shepard of the hills" and was renown for his humility and piety. His great grand uncle, Rev. William Kamau also served ʻOpihikao Church as well as others, and served at Kawaiahaʻo Church 1934 to 1940. His parents are the Reverend John and Reverend Violet Makuakāne--both of whom served ʻOpihikao Congregational Church 1987 to 2010.  His uncle, Rev. William Kaina served churches around the islands and served at Kawaiahaʻo Church 1984 to 1997.  His cousin, Kahu Curtis Kekuna served at Kawaiahaʻo Church 2004 to 2017.      
In 2010, Kahu Makuakāne answered the call to authorized ministry and began working at the Hawaiʻi Conference of the United Church of Christ, first as an Associate for Church Vitality, then as an Associate Conference Minister and the Papa Makua (the head minister) for the Association of Hawaiian Evangelical Churches. On May 5, 2018, Kahu Kenneth Makuakāne was ordained and installed by Kawaiahaʻo Church as its twelfth pastor. 
Before his ordination, Kahu Kenneth Makuakāne was (and is) a successful singer, song writer and producer. According to his biography posted by Kamehameha Schools: Kenneth is recognized as a successful innovator in producing and recording Hawaiian music. He has over one hundred albums to his producing credits, working with artists such as Na Leo, Hapa, Amy Hānaiali'i Gilliom, Raiatea Helm, Obrian Eselu and Jeff Rasmussen.
A prolific songwriter, Kenneth's compositions have been recorded by local artists, as well as international artists. His songs have even been performed many times over at the annual Merrie Monarch Hula Festival. He produced a track on Kenny Loggins 2000 CD release More Songs from Pooh Corner. And his music has been on the soundtrack of major films like "Honeymoon In Las Vegas" and "Parent Trap In Paradise." He has received a total of eighteen (18) Na Hoku Hanohano Awards, the Hawaiʻi equivalent of the Grammy Awards. Makuakāne won Song of the Year honors in 2000 for his hit composition, I Miss You, My Hawai'i. He has been recognized in the National Registry of Who's Who.
On June 8, 2006, Kenneth was inducted into the Kamehameha Schools Alumni Gallery Hall of Fame. The gallery recognizes outstanding men and women graduates who have been positive role models in both their professional and personal lives, have contributed to and made a significant difference in the community, society in general, The Kamehameha Schools, and has a high level of respect in the professional community by peers and colleagues.